Characteristics and ecological issues
The thermo-Atlantic halophilic scrub habitat is present on the salty vases of the coasts of the French Atlantic coast, from Arcachon to the south of Finistère, with some mentions in the English Channel.
It is dominated by sub-shrub and crassulescent species (fleshy leaves) of the salt / salt marshes (Woody soda- Sueda vera, Frutescente soda- Salsola fruticosa, Oblusely purslane- Halimione portulacoides,…).
It develops in narrow bands along the access channels of sea water in the marshes and mark the limits of the highest seas, on the slopes of the salt flats or even in high salt meadows.
The Bluethroat (Luscinia svecica namnetum) nests in this habitat which gives it privileged song posts. It is also a refuge for reptiles (peliad viper – Vipera berus) and mustelids (European weasel – Mustela nivalis).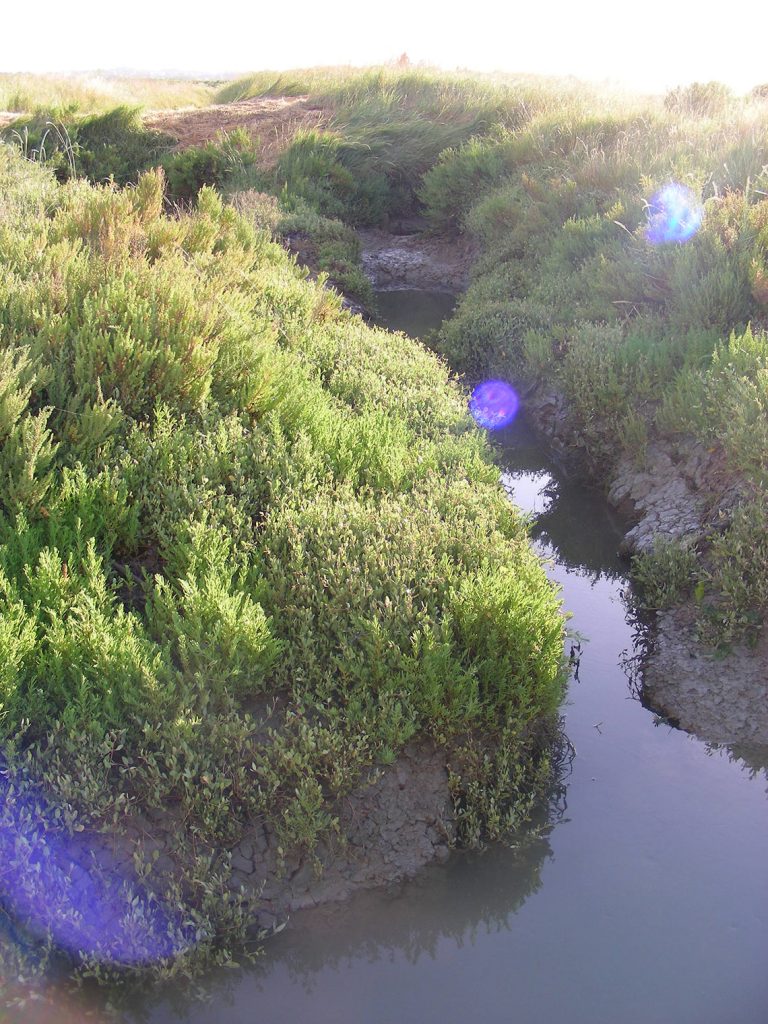 Thermo-atlantics scrubs around a channel (on the left) and on the slopes of a exploited saline (Photo credit: Cap Atlantique)
Habitat listed in Annex 1 of the Habitats, Fauna and Flora Directive (1420: Thermo-Atlantic halophilic scrubs).
Distribution and state of conservation on Natura 2000 sites
This habitat is distributed over all the salt and salt marshes. In the LIFE Sallina territories, halophilic thickets cover 1,105 ha, including 57 ha in the Guérande and Mès salt marshes (2001 data) and 1,048 ha in the Breton Marsh and Noirmoutier island (data pending updating of habitat maps).
Conservation objectives / threats / actions planned in LIFE
The main conservation objective is the preservation of shrub vegetation in the salt marshes while maintaining the possibility of high shrub shrubs development.
This habitat is threatened by the presence of Baccharis halimifolia. By competing with the natural vegetation, this invasive species degrades the conservation status of this habitat. Its development should therefore be limited, which is why the fight against these invasive plant species (on 3,078 ha) is planned.
It is also advisable to favor the supply of salt water and the maintenance of the hydraulic network to ensure the maintenance of halophilic vegetation
In exploited areas, the threats to this habitat are intensive maintenance practices which can lead to its disappearance.
LIFE Sallina plans to carry out work to combat invasive species as well as work with salt workers in order to promote saliculture practices that allow this habitat to be maintained.